A smokey eye is one of our favorite eye makeup looks. It's sexy, classic and suits everyone. The key to a flawless smokey eye is proper blending. That's why it's important to have at least two clean blending brushes before you start re-creating the looks below. Also, when rocking a smokey eye, remember to keep your cheeks and lips light.
These 21 tutorials will show you have to nail a perfect smokey eye look. Each tutorial has a step-by-step instructions that are easy to follow. Enjoy!
Glamorous Smokey Eye Trends 2015
1. BLACK SMOKEY EYE + POP OF GLITTER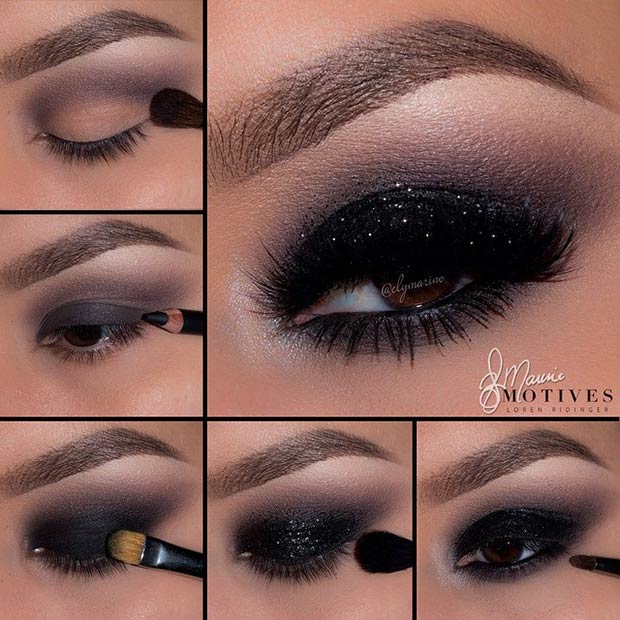 Step 1. Begin by applying a neutral eyeshadow onto your eyelid.  This eyeshadow will make your blending easier. Using a clean fluffy brush, apply a dark grey eyeshadow onto your brow bone, and blend it slightly above the crease. This shade will make the transition between the black shades much smoother.
Step 2. Apply a black eye pencil or gel eyeliner all over your eyelid. Blend everything out.
Step 3. Using a flat eyeshadow  brush, apply a black matte eyeshadow. Blend some more.
Step 4. Spice the look up with some glitter on the center of your eyelid.
Step 5. Line the waterline with a black eyeliner. With a smaller brush, apply a mix of grey and black eyeshadows below the waterline. Blend everything together and highlight the inner corner.
Step 6. Finish the look with a few coats of mascara and some false eyelashes.
2. BLUE, BROWN & PURPLE SMOKEY EYE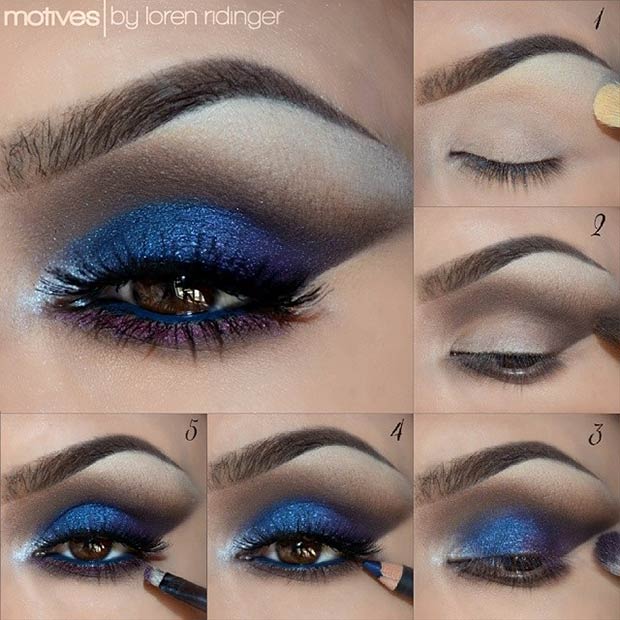 Step 2. Highlight the brow bone. With a big and soft brush, apply a light brown eyeshadow to your crease. Take a dark brown eyeshadow on a blending brush and apply it above the crease and extend it to the outer corner of the eye. You can use scotch tape to get a sharp and clean edge. Apply some brown eyeshadow below your waterline, too.
Step 3. Highlight the inner corner of the eye with a shimmery silver or white eyeshadow. Apply a dark blue eyeshadow to the entire eyelid and some purple shade on the outer corner of the eye.
Step 4. Apply a thin line of an eyeliner along the upper lash line and your favorite false lashes. Line the waterline with a blue eye pencil.
Step 5. To bring the look together, apply some purple eyeshadow below your waterline. Apply mascara over your lower lashes.
3. BLACK & GREEN GLITTER LOOK